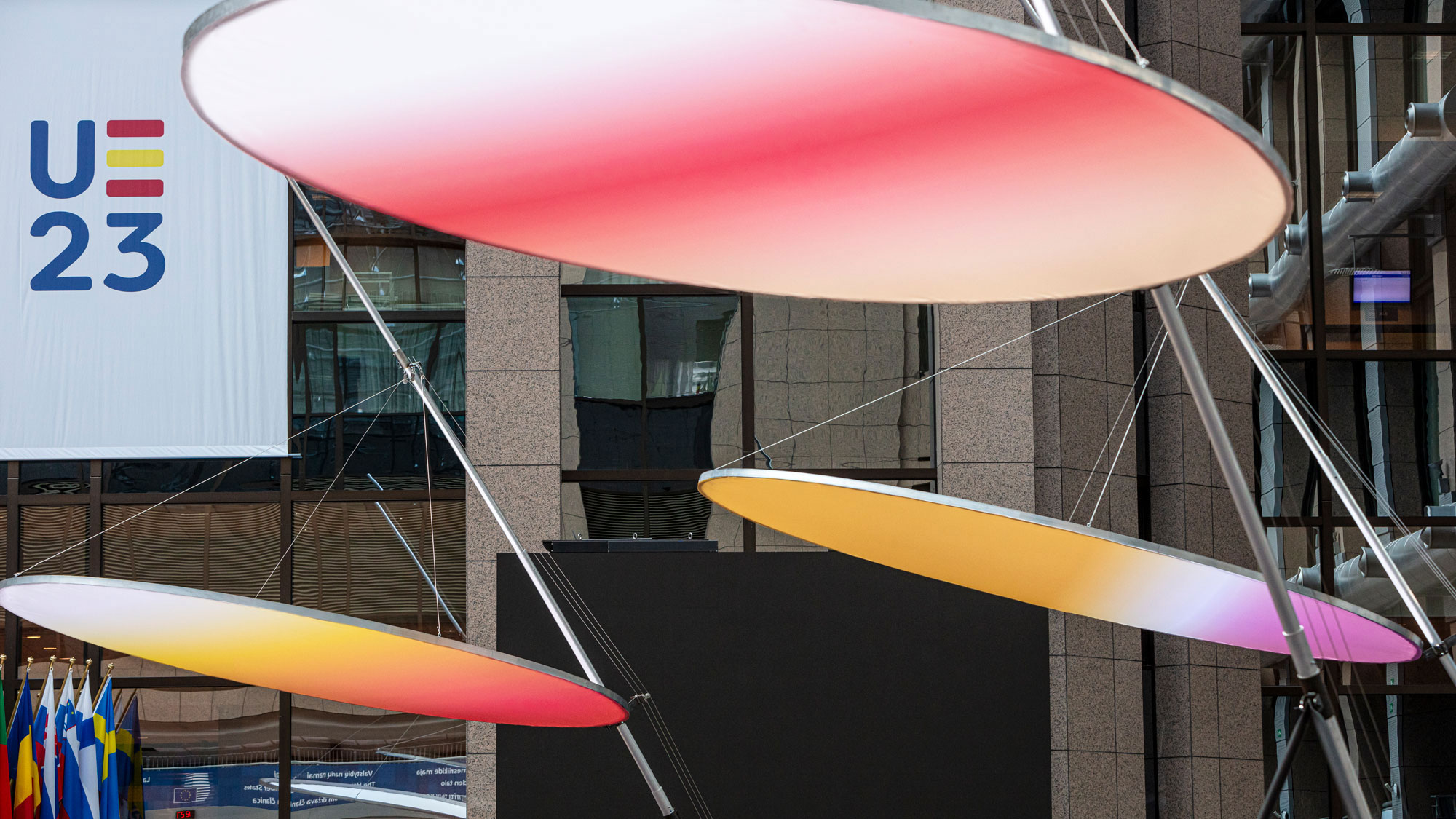 Paisaje solar
Solar landscape
Consejo de la  Unión Europea
Bruselas, Bélgica
Julio/July – Diciembre/December
2023
La luz de España ilumina Europa
Tres instalaciones artísticas unidas por una misma visión, creando un vínculo con el mundo exterior, los países miembros y sus ciudadanos. En ellas la luz del sol lo ilumina todo y a todos, amaneciendo como generadora de vida, como símbolo de la creación y la transición ecológica y vinculándose conceptualmente a los ejes de diversidad, inclusión e integración.
Paisaje Solar, de Rocío Asensi en colaboración con el estudio de arquitectura Re-Create Studio, es el proyecto seleccionado en un open call promovido por la AECID, Acción Cultural Española y la Oficina de Coordinación para la Presidencia española de la Unión Europea para realizar las intervenciones artísticas que se instalarán en los edificios del Consejo durante la Presidencia española de la Unión Europea.
Spain's light illuminates Europe
Three art installations, united by a single vision, form a link with the outside world, the EU member states, and their citizens. In them sunlight illuminates everything and everyone, rising as a source of life, symbolising creation, and green transition, and forming conceptual links to the themes of diversity, inclusion, and integration.
Solar Landscape, by Rocio Asensi in collaboration with the architectural firm Re-Create Studio, was the project selected as a result of the open call for proposals launched jointly by the Coordination Office for the Spanish Presidency of the EU, Acción Cultural Española and the Spanish Agency for International Development Cooperation for the realisation of artistic interventions in the Council buildings on the occasion of the Spanish Presidency of the Council of the European Union.
Al adentrarse en el Atrium, el sol empieza a brillar y se crea una experiencia inmersiva para el paseante al descubrir flotando en el espacio, ocho estructuras independientes que contienen unas enormes piezas ovaladas de tela impresa en colores que representan el sol. Estos elementos que emanan luz, y simbolizan los colores de la luz del sol desde el amanecer al atardecer en diferentes ciudades de España, tiñen de color el espacio. 
El ambiente lumínico es cambiante,  y se va modificando mediante programación, en intensidad y temperatura de color, según el clima y el paso de las estaciones. Creando una coreografía que dialoga con la luz natural a lo largo de estos seis meses.
Upon entering the Atrium, the sun starts to shine, creating an immersive experience for the passer-by, as you discover floating in space, eight independent structures containing some impressive oval-shaped pieces of cloth in colours that represent the sun. These elements that give off light are printed in the colours of the sunlight from sunrise to sunset in different cities in Spain, filling the space with colour. 
The lighting ambiance is variable, changing  by programming, in intensity and colour temperature based on the weather, the season. Creating a choreography that dialogues with the natural light over this six-month period.
¿Cómo es la Europa que sueñas?. Esa es la pregunta que impulsó el desarrollo de esta intervención artística, y la respuesta que dieron los propios ciudadanos europeos a través de una encuesta, forman parte de esta instalación artística.
A partir de los resultados se crearon ocho escenas que simbolizan los ideales de los ciudadanos con respecto a Europa. El paisaje español forma parte de la pieza, sus pinares, los montes de Gredos, la naturaleza es el nexo que une todas las escenas.
La obra es una instalación lumínica compuesta por una estructura central ovalada que gracias a la tela translúcida que compone sus paredes, permite que la luz se proyecte desde su interior.
Los visitantes pueden escuchar a través de su teléfono móvil el audio que acompaña la pieza. 
What does the Europe you dream of look like?. That is the question behind this artistic creation. The answer is provided by European citizens themselves, through a survey, whose ideas and opinions will be part of this art installation.
Based on the results, eight scenes was created, that symbolise citizens' ideals regarding Europe. The Spanish landscape forms part of the piece, its pine forests, the mountains of Gredos, nature is the nexus that unites all the scenes.
The work is a light installation made up of an oval structure from which a translucent fabric hangs, forming its walls. The light that shines from the lamp is cast outward, projecting the silhouettes of the people inside.
Visitors can also listen to an audio clip that accompanies the piece on their mobile phones.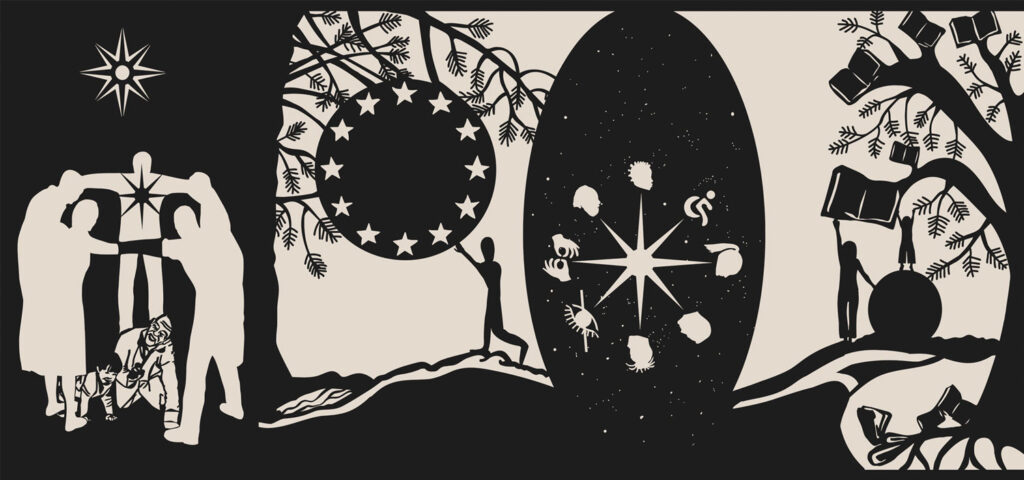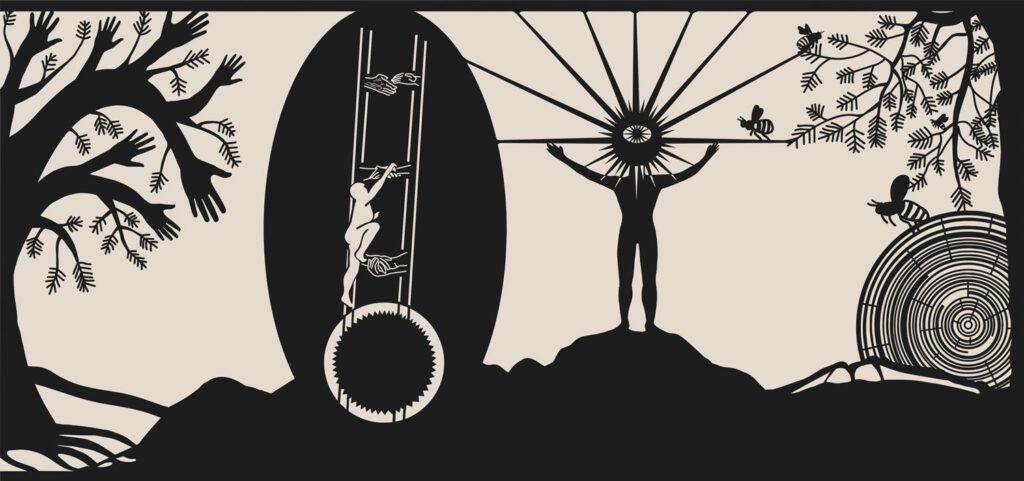 Esta obra busca reunir los conceptos de inclusión, diversidad y deseos de futuro.
El Fórum se ilumina y se llena de color con este paisaje, que visualizamos a través de una caja de luz que muestra una imagen impresa en una tela de grandes dimensiones. Una línea llena de energía, color y vida atraviesa la tela, representando los últimos rayos del sol antes del anochecer.
La programación de la caja de luz nos muestra el movimiento del Sol. Tres diferentes secuencias que nos lleva a recibir este paisaje de forma meditativa e introspectiva, como cuando observamos un atardecer.
This work seeks to bring together the concepts of inclusion, diversity, and desires for the future.
The Forum is illuminated and flooded with colour through this landscape, which we view through a light box that displays a printed image representing the elements used previously. A line full of energy, colour, and life runs along the canvas, representing the last rays of sunshine before sunset.
The programming of the light box shows us the movement of the sun. Three different sequences that lead us to receive this landscape in a meditative and introspective way, as when we observe a sunset.
Colaboradores
Collaborators
Delta Production
Producción y construcción / Production and construction
Julio Bao
Técnico de iluminación / Lighting technician
Sergio Romo de Arce
Construcción lampara lobby / Lobby lamp construcción
Álvaro Saldaña
Sonido lobby / Lobby sound
Sicart Studio
Diseño web / Web design
Curl Translations
Traducción textos web / Web text translation
Gabriel Spera
Visualizaciones (Renders) / Visualizations (Renders)
Tim Van de Velde
Fotografía / Photography
Roché Rabie
Revisión textos / Text review
— — —
Igor liberato
Agradecemos su ayuda durante el proceso / We appreciate your help during the process